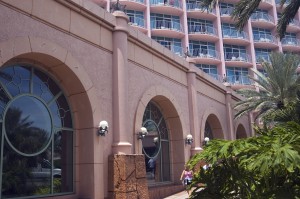 Glass Fiber Reinforced Concrete Lintels
Seen over doors and windows, this architectural element used to be a load-bearing building component. A lintel is a horizontal block that spreads across the space between two vertical supports. Lintels from Stromberg Architectural Products are purely decorative elements that add pizzazz and that customized look to any structure.
Adding a GFRC lintel by Stromberg to your building's exterior is an inexpensive way to add appealing detail. You'll see GFRC lintels by Stromberg on structures the world over.
Some of their clients include:
The Stromberg Advantage
When you choose Stromberg you have the world's largest selection of lintels from which to choose. Stromberg can customize your GFRC lintels or select one from their stock designs that best fits your building.
Stromberg has the largest factory of its kind in the world; with this kind of manufacturing capability they can service your needs no matter where your next project happens to be.
No matter where you want to add your GFRC lintel, Stromberg's range of colors, textures and finishes means that you have almost unlimited design freedom.
Stromberg can solve your design and construction challenges using their 30 years of experience and innovative approach; they stand apart from others.
Features and Benefits of GFRC
Glass fiber reinforced concrete is made with molds; it can be shaped into almost any design you need for your lintels.
GFRC has been tested in the laboratory and in real life situations and has been proven to last as long as pre-cast concrete.
GFRC stands up to any kind of weather condition, including high winds and salt air. It won't rust or corrode and is immune to insect infestation.
GFRC is a green architectural product with a low environmental impact.
GFRC lintels can be made in integral colors and textures like limestone, precast or acid wash. They can also be made to be painted with almost any color.
The Stromberg Pledge to You
The professionals at Stromberg Architectural Products have guided clients for generations. They'll guide you through the design and production of your GFRC lintels to ensure that what you want is exactly what you get. Stromberg is here to help with CAD details, design assistance and specifications. Contact them today at 903-454-0904 for a free custom quote, and put their 30 years of experience to work for you.