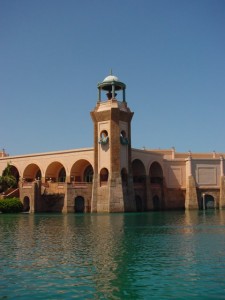 Glass Fiber Reinforced Concrete Cupolas
A GFRC cupola from Stromberg will be the perfect enhancement for your hospitality location. Cupolas are usually dome shaped, but they can also be pointed and used to house a bell or as an observation tower. At Stromberg Architectural Products they have
designed cupolas for world famous hospitality locations; the Atlantis Resort and the Marriot Hotel are two examples of their work.
Glass fiber reinforced concrete (GFRC) is the best choice for your hospitality cupola. Because it's reinforced with glass fibers instead of concrete, GFRC is much lighter weight and will be a safer and easier installation. Your shipping costs will be lower and the installation will require less structural framing and support.
GFRC Cupolas for the Hospitality Industry
Stromberg has the largest selection of cupolas anywhere and you can have your hospitality cupola made in your choice of texture, finish or color. Whatever size or design you choose for your cupola, Stromberg will assist you in every detail of the process. They have 30 years of experience working in the industry and they'll put it to work for you.
Glass Fiber Reinforced Concrete
GFRC is one of the most versatile materials you can choose for your cupola. Stromberg will use a mold in the creation of your cupola, so any design that you imagine is possible. Finishes such as natural stone, wood, coral and bronze are possible. GFRC has been laboratory tested and proven to stand up to weather conditions like strong winds, salt air and moisture. Stromberg cupolas are in use all over the world, in earthquake prone areas.
Glass fiber reinforced concrete is an earth-friendly product made from minerals; it won't burn and it acts as a thermal regulator if it's exposed to fire. It will actually protect behind it to slow down a fire.
Features and Benefits of Glass Fiber Reinforced Concrete
GFRC is very strong and durable.
GFRC is available in a wide variety of colors, textures and finishes.
GFRC is fire and rust resistant.
GFRC is much lighter than stone and can be cast into almost any shape.
The Stromberg Pledge to You
The design professionals at Stromberg Architectural Products will partner with you and your firm to create the hospitality cupola you envision. They will provide help with CAD details, design assistance and all specifications. Contact them today at (903) 454-0904 for your free custom quote, and put their 30 years of experience to work for you.